Physical Therapy (or physiotherapy) is the art and science of physical care and rehabilitation. The Physical Therapists at Comprehensive Medical Care are licensed and board-certified primary health care professionals who specialize in diagnosing and treating neurological and musculoskeletal acute injuries and chronic pain.
What Do Physical Therapists Do?
Physical Therapists (PTs) take the time to thoroughly examine each patient and analyze movement patterns before developing a treatment plan catered toward improving mobility, reducing pain, restoring function, and preventing long-term disability.
Physical Therapy Process
The PT's physical examination includes a thorough assessment of the individual's medical, fitness, and wellness history along with manual diagnostic testing to establish a diagnosis. When necessary, laboratory and imaging studies can be incorporated for detailed medical diagnostics. Some of this imaging may be completed on-site at one of our state-of-the-art outpatient treatment facilities or referred to local imaging centers for additional testing.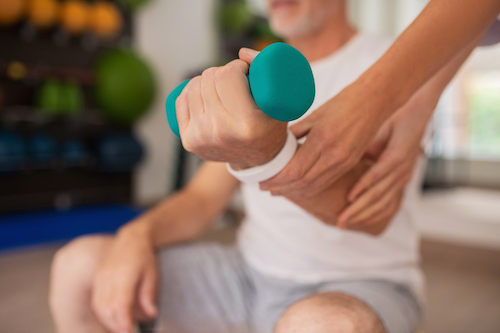 What Does Physical Therapy Include?
PT management commonly includes manual therapy, mobilization, prescription of or assistance with specific exercises, education, and other interventions. Our Therapists at Comprehensive Medical Care combine principles and techniques from the McKenzie Method, Maitland Concept, Mulligan, Graston, Active Release, and Myofascial Decompression (Cupping) to perform their manual therapy.
Exercises are geared toward improving inefficiencies observed following objective testing such as the Functional Movement Screen and Physical Performance Testing and can include GAIT training, core stabilization, postural corrections, neuromuscular re-education, biofeedback, and home management programs as prescribed.
Therapy sessions are often complimented by the use of modalities such as vaso-compression, ultrasound, electrical stimulation, vibration massage, and/or Class IV Laser treatments and can end with taping, strapping, or bracing of the body part with Kinesio Tape, McConnell tape, or a variety of trusted, durable medical supplies.
Physical Therapy at Comprehensive Medical Care
Physical Therapy is an important component of the rehabilitation process and is part of the spectrum of return to function following an injury. Contact us today to learn how Physical Therapy can help you feel better, improve your mobility, reduce your pain, and prevent long-term disabilities.