If you are suffering from physical, sensory, or cognitive disability due to an accident or other ailment, schedule an appointment to see our Occupational Therapists. Our professional staff at Comprehensive Medical Care assists in devising a personal recuperative treatment plan based on the extent of your injury and the pain you are experiencing.
We help our patients regain control of their lives by completing everyday tasks like rising from a seated position, reaching overhead, and resuming fun activities such as drawing, playing with children, hiking, and playing sports. Treatment plans consist of working to regain activities of daily living, enhancing mobility, increasing muscular strength, improving endurance, and correcting movement inefficiencies.
Your Occupational Therapist will often include a home exercise program and steps for resuming regular activity. Our team wants you to take back the ability to complete the tasks you desire and that we discussed in your initial consultation. We also want to work together. There is no reason to feel you are alone in the recovery process; we're with you every step of the way.
What Types of Occupational Therapy Are There?
Occupational Therapy covers a wide range of rehabilitative categories, with our team specializing in orthopedic, neurological, pediatric, geriatric, ergonomic, and hand therapy, to name a few. Learn more about each category below:
Pediatric: Adolescent individuals tend to be very active in their everyday lives, and with that activity comes the risk of injury. Whether it is from a fall on the playground or an injury during a sporting event, our Occupational therapists work to restore function due to orthopedic and neurological injuries in the pediatric population.
Geriatric: The goal of occupational therapy in the adult population is to improve quality of life. Our Therapists work to ensure injured tissues are healed properly so that patients can fully perform daily tasks. In addition, we work to strengthen and maintain the muscles needed in everyday activities.
Ergonomic: Ergonomic Occupational Therapy refers to the practice of adjusting a patient's environment to prevent injuries that develop over time. For example, improving seated posture and strengthening the muscles within this position would aid in overall health, safety, and prevention of injuries.
Hand Therapy: Occupational Hand Therapists extensively study the hands, wrists, arms, elbows, and shoulders. They provide preventative care, rehabilitation, post-operative therapy, and more.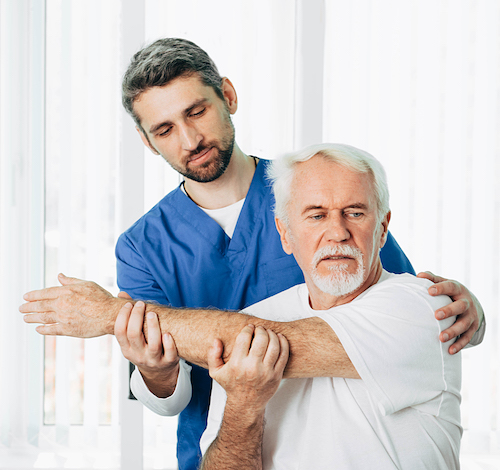 When would I benefit from Occupational Therapy?
Our therapists work with individuals who have suffered from slip and falls, motor vehicle accidents, sports injuries, chronic pain, arthritis, carpal tunnel syndrome, pre and post-surgical knee injuries, spinal conditions, and more. If you find yourself experiencing any pain, discomfort, change in or diminished ability to perform your normal tasks, then we encourage you to schedule an appointment today.
Reach Out to Comprehensive Medical Care Today
If you have suffered an injury, are in pain, or are having issues completing daily tasks, it is time to contact us at Comprehensive Medical Care. We help you get back on the path to recovery and function. Call today to schedule your free consultation.